We will inform you about the stands that will be in the OpenGune.
Abysm Gaming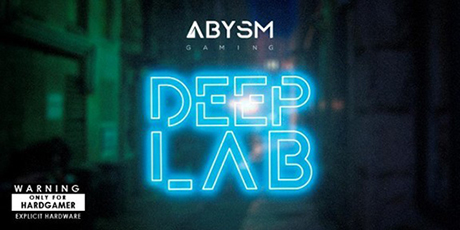 Discover the deepest hardware experience at our stand. Deeplab experience.
✓ Discover the deepest experience at our stand.
✓ Get to know our products first-hand: ask, research, experience, try.
✓ Enjoy many more Deeplab experience surprises, raffles and discounts.
✓ Share your experience over #somoshorda #deeplabexperience #Godeep #AbysmGaming
Web: https://abysmgaming.com/es/
Camp Tecnológico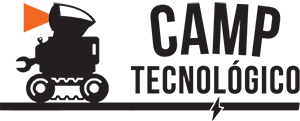 Camp Tecnológico ofrece talleres gratuitos para niños y niñas y adolescentes, de introducción a la robótica y la programación a partir de los 8 años, con 3 sesiones el viernes 27 y el sábado 28 de julio.
- Para mayores de 8 años taller para programar el Robot Kamibot.
- Para mayores de 9 años taller de creación de efectos de luces y colores en una tira de Leds programando la placa electrónica Crumble.
- Para mayores de 12 años taller de introducción a la Industria 4.0 , consistirá en la programación del brazo robótico Dobot.
Horario de los talleres a las 12:00, 16:00 y 18:00 , con una duración de 1h 45 minutos.
Las inscripciones gratuitas se realizan en la pagina web https://camptecnologico.com/euskal-encounter/
Web: https://www.camptecnologico.com
Blood Donors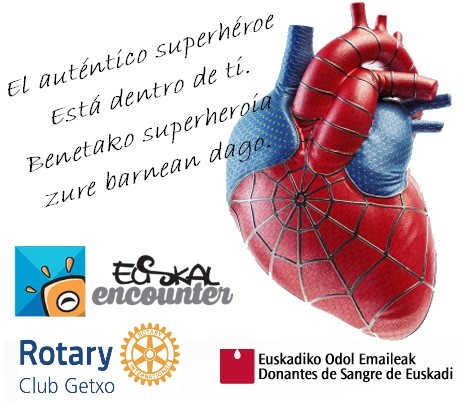 On Friday, the blood donors' mobile unit will be available to collect your generous contributions at Opengune.
Blood donation is a simple, safe, painless act, assisted at all times by specialised professionals. For you, it entails no risk, but for patients throughout the territory it may mean advances in their recovery.
Despite medical and technological advances, blood still cannot be manufactured at present and can only be obtained from altruistic donations by other persons.
Timetables: Friday the 27th
Morning from 9:00 to 14:00
Afternoon from 16:00 to 21:00
Web: http://www.donantes2punto0.eus/es/
Etxanobe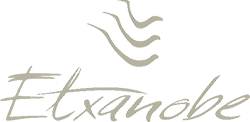 Descubre la nueva propuesta VR gastronómica de un restaurante legendario.
Web: https://ladespensadeletxanobe.com/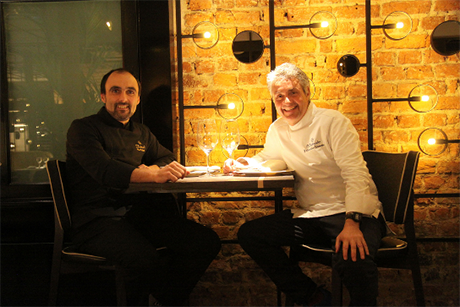 IVAO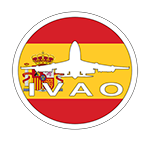 The Spanish division of IVAO, the International Virtual Aviation Organization, offers a chance to get acquainted in person at this Euskal Encounter.
Flight and control posts faithfully recreating all air transit operations at Bilbao Airport to be underscored.
Just as interesting are the talks/debates offered by the managers of the different agencies related to the aeronautics sector.
.- 26 July
11:00 - 12:00 The ATC service at IVAO. Conference on the current status of air control on the IVAO network. Charla/taller a cargo de Samuel Martinez. En el propio stand.
12:00 - 13:00 IVAO, a flight network in progress. A talk on the current status of the Spanish division and its advances, software, working tools, website, systems, instruction and training. Ponencia a cargo de Elias Herrero. Sala de conferencias de la Opengune.
10:00 - 20:00 Everyone to Bilbao... Special edition. A virtual event on the tour of events, EVERYONE TO... these are domestic and international videos going to Bilbao, with full ATC.
.- 27 July
12:00 - 13:00 Cold and Dark start-up. Workshop at the stand devoted to the real start-up of a Boeing 737, from gate opening up to readiness for take-off.
13:00 - 20:00 Bilbao Euskal Encounter.international virtual event with the main division of IVAO, consisting of both arrival and departure flights to and from Bilbao.
.- 28 July
12:00 - 13:00 Aeronautic maps. A conference on reading aeronautic maps, ranging from flight plans up to taxi.  Exposición a cargo de Manuel Perez González . En el propio stand.
13:00 - 14:00 Simulation hardware. Exposición a cargo de Jorge Cabal. Sala de conferencias de la Opengune.
11:00 - 19:00 Bilbao.virtual event RFO simulating an afternoon of real control at the premises of the Bilbao tower. Arrivals and departures of real programmed flights. Real Flight Operations BIO.
Nacon / Bigben Interactive

Nacon, juventud e innovación en la creación de accesorios de PC Gaming desde 2014, ofrece a los jugadores las herramientas necesarias para introducirse en el PC gaming. Headsets, teclados, ratones… Nacon posee todo lo que tu
necesitas para potenciar tus habilidades y experiencia gamer. Debido a que las grandes cosas no se logran sin pasión, cada persona que forma parte del equipo de NACON, pretende imponer la excelencia como norma para todos los
jugadores gracias a sus innovadores productos. Gracias a nuestra presencia en redes sociales y en diversos eventos e iniciativas de Esports, siempre tenemos la oportunidad de obtener el feedback del gamer para maximizar el rendimiento y experiencia de juego con nuestros periféricos.
Bigben Interactive, Líder Europeo en accesorios Gaming, distribuye productos NACON en Europa, proporcionando un verdadero compromiso y experiencia de juego al mercado.
Web: www.nacon-es.com
Omen by HP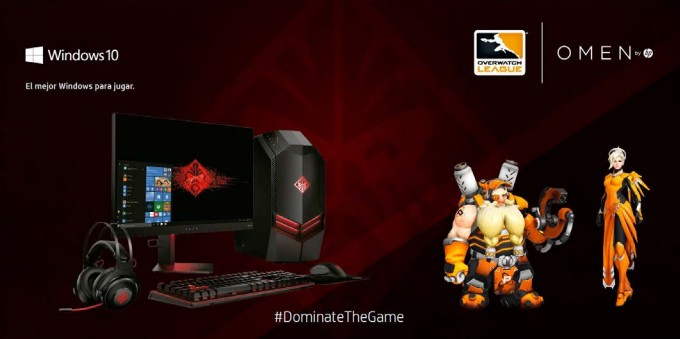 Overwatch Summer Omen by HP Tournament
Web: http://www.ogseries.tv/owsummertournament
RetroEuskal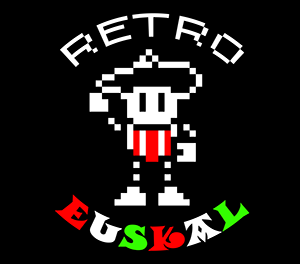 RetroEuskal es un evento anual de RetroInformática y videojuegos clásicos organizado por la Asociación RetroAcción. En la edición de 2018 de RetroEuskal se realizarán varias actividades a lo largo de los cuatro días de su celebración.
Web: http://www.retroaccion.org/retroeuskal-2018
Store by Modpc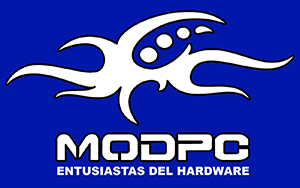 Official Euskal Encounter point of sale, where you will always get the best terms from brands and companies collaborating in the event.
Consult the best technicians on executing a configuration and renovating your PC. Bring your equipment so they can evaluate the best expansions for making it last longer or giving it extra power. Or consult any technical problem that arises during the event and don't miss out on enjoying your PC to a maximum.
Hardware, monitors, cables, repairs, modding, gaming and much more. Hardware enthusiasts.
Consult the complete list of products available in Euskal Store at:
https://www.facebook.com/modpc
       

 

Abysm Gaming

ABYSM Gaming started in 2017 as a worldwide brand thanks to collaboration between three continents, with the best of each: American market tendencies from the American partners to the project, the most advanced production centres of China and European merchandising and distribution knowhow.

For this reason, ABYSM Gaming boasts a product range of the best quality to exceed the expectations of a very demanding public, such as "hard users" who assemble their own equipment, know the importance of component quality and research before buying a product.

ABYSM is consolidating itself as a reference in the field of refrigeration in the gaming market. Nevertheless, PSUs account for the other product in which ABYSM specialises, with one product family being as important as the other. It is not to be forgotten that we also work with high-end casings and a selection of fine peripheral supplies that began with M, L and XL mouse pads.

Web: www.abysmgaming.com

---

Mars Gaming

Mars Gaming is a brand specialising in gaming products founded in 2014, determined to offer the best price-quality ratio in the industry and combining two factors indispensable for any gamer: high quality products and absolutely accessible prices. Mars Gaming has a wide range of products, designed to satisfy all the needs of the gamer public: from more technical products such as PSUs or CPU coolers to specific gaming peripherals, such as computer mice, keyboards, headphones and chairs. All are designed from scratch, taking account of the needs of the user and adapting to him or her in every aspect. The brand product catalogue shows exclusive, totally innovative lines such as Hades, Vulcano, Zeus and the series of EuroLeague Basketball official products.

Web: http://www.marsgaming.eu/es/

 

---

Nacon Gaming

 

Bigben Interactive is a French consumer electronics multinational specialising in the design and distribution of videogames (Publisher), gaming accessories, sound and telephony. It will be attending this edition of the Euskal Encounter with NACON, its PC Gaming line, one of the best known and most widely used domestically, and NACON Revolution, which it developed, the official Playstation 4 competition contoller.

Web: www.nacon-es.com

---

Thunder X3

ThunderX3 works hand in hand with eSports engineers and professionals. It is a brand of high-range peripherals intended for the professional gaming sector and more expert players. It develops products of professional quality, aiming for perfect balance between aesthetics and technology, always aspiring to surpass market standards by offering innovative products addressing the most demanding gamer public. Its products are specifically designed by and for professional players, with a sporty and dynamic look perfectly prepared to stand out in any competition. 

Web: https://thunderx3.com/gaming-chairs/

 

---

UNYKAch

UNYKAch is an IT brand with over 10 years of experience in component manufacture. Specialised in cases and PSUs, we offer the market the experience of a team trained by highly qualified professionals.

UNYKAch products observe high quality standards, resulting in more modern, efficient and failsafe components.

We innovate constantly to surmount continuous technological challenges, offering the best products and services to our customers.

Web: https://unykach.com/

Linkedin: https://www.linkedin.com/showcase/unykach-spain/

---
THE LAB
The Lab es el área situado en la zona Opengune de Euskal Encounter mediante el cual se quiere dar visibilidad a las últimas novedades en el mundo de las nuevas tecnologías, desde videojuegos, hasta las iniciativas más innovadoras. Este espacio pretende ser un punto de networking con diferentes profesionales de diversos ámbitos a la vez que un lugar en el que puedan surgir nuevas ideas.
       

 

Beitxu Studios

VIRTUAL CLASSROOM FOR MACHINE TOOL TRAINING

When students put on the device, they enter a simulated version of the same classroom they are in. They appear in front of the teacher's table, designed as a menu from where to choose the machine, the exercise, and the tool on which they want to practice. For newer users, there is a tutorial with a voice in off (available in Spanish and Euskera) and blinking buttons that guide them through the exercise. In practice mode, they must follow the steps learned with no outside help. To motivate learning, the top ten students appear on the classroom backboard with their scores.

Days: Thursday and Friday

---

De Fobos y Deimos

Phobos and Deimos is the first RPG that Works on LGTBI-phobia and diversiphobia. On walking in Jokin's shoes, you will authentically feel what many go through every day on the street, in their working relations … because fear attempts to destroy our greatest treasure, diversity. The game was created using RPG Maker and, apart from a game version available via streaming, it will also have an educational version to be distributed to all the schools of the Basque Country.

 

Web: http://defobosydeimos.com/

Ko-fi: https://ko-fi.com/defobosydeimos

Steam: https://store.steampowered.com/app/875300/De_Fobos_y_Deimos/

 

Day: Thursday

---

Gaptain

Gaptain in an online platform providing services to protect minors against internet, social network and cell phone hazards. Gaptain services include family cybersecurity, digital education and parental control tools for the proper supervision of children's digital activity.

 

TOTAL Family Protection Plan:

Linkedin: https://www.linkedin.com/company/gaptain/

Days: Thursday, Friday and Saturday

---

4FreaksFiction

We plan to show attendees a fully playable demo of our current project, a competitive online videogame developed for Virtual Reality. Our intention is to set up two HTC Vive headsets so that attendees can complete with each other in pairs.

We also intend to bring a couple of high-range laptops to enable attendees to play in parallel on our other project, a psychological exploration game in the broadest sense of the term.

in conclusion, we offer the chance to play two games fully developed (being developed) by ourselves, while talking to the team and raising all the questions that may arise regarding indie development in Spain or studying a course like ours and working in this field, for example.

 

Days: Thursday, Friday and Saturday

---

Hirisens

Hirisens conducts its activity as operator in the sector of the Internet of Things (IoT) using smart technologies. 

At our space, you will find different sensor materials and IoT software demonstrations.

 

Day: Thursday

---

VOST Euskadi

We will demonstrate the application we created and launched, apart from explaining our work and its objectives. 

What do we do?
We provide support in the management of emergencies over the social networks and internet.

We support intervention teams through the use of digital tools.
Civil Protection over the social networks at different stages:

Planning:

Smart Listening. (social network monitoring)

Contention of rumours and potentially harmful information.
Data analysis.

Self-protection and security message broadcasts.

Prevention:

Implementation of social media tools and multi-platform messaging during emergency plans, situations of potential risk and massive crowd traffic.
Crowdmapping.

Intervention:

Smart Listening.
Self-protection and security message broadcasts
Creation and dissemination of information for intervening operations units.
Implementation and management of social media tools and multi-platform messaging to exchange information and coordinate operations.
Crowdmapping.

Web: www.vosteuskadi.org

 

Day: Friday

---

Kopuru

Kopuru is a platform connecting companies and data professionals. At the Euskal, we will introduce the platform and the first flaw detection challenge in the tests on relays manufactured by the Arteche Group.

If you think you can identify the patterns that create instabilities and win the cash prize, come and get information. 

Day: Friday

---

 

3D2 Entertaiment

Users will find in this space all the information necessary to create videogames on our channel, Twitch, and test our videogames.

After the first months of development, we are ready to begin showing material from our new project, Arima!! If you want to discover everything about this universe we are creating, you will see the complete development of the game here (no spoilers)

https://www.twitch.tv/3d2entertainment

You will be able to see how we work and ask us whatever you want.

Day: Saturday

---

Main Loop

You will be able to play the demo of Submersed, a videogame we are developing with Play Station within the Play Station Talents programme.

Web: www.mainloopvideogames.com

Day: Saturday

---

Prology Media

Prology Media is an agency specialising in the Gaming & ESports universe whose aim is to combine brands, gamers and influencers in a single space. Hence, we have:

Streamers and influencers acting in representation (Twitch Network)

Gaming content and ESports outcome website, where the gamer himself can register his tournaments.

Marketing Agency, focusing on brands. We offer all the services needed to operate or access the market.

 

Web: www.agency.prologymedia.com

Day: Saturday

---

Crevice

      

Somos el estudio CREVICE de Bilbao, que se formó en la Global Game Jam 2017. En esa Jam, recibimos el premio de los participantes a mejor videojuego, lo cual supuso el punto de partida hacia el proyecto que estamos desarrollando en el Sony Talents Games Camp 2018 en la sede de Bilbao: 'WAVES OUT!'

El juego será publicado para PS4 en a finales de 2018 y contiene tanto modo de juego de un solo jugador como un modo de batalla 1vs1 local. 

De este último modo presentamos una primera versión abierta a ser probada en la Gipuzkoa Encounter y una segunda versión más avanzada en esta Euskal Encounter 26.

Web: https://wavesoutgame.com/

 

Day: Saturday

---
Wuautech

At Wuautech, we believe that the best way of enjoying virtual reality is doing it without accessories or controls. We create large-scale experiences and games where movement is resolved by walking.
When we make games on platforms, the user climbs up and down real platforms, takes coins using his body and actually jumps. If he has to complete a circuit, he goes through panels and follows the path as in an actual circuit.
Our goal is to excite and create sensations. For that reason, we develop absolute immersion, where we mix virtual and real, the physical with the digital.
This is hyper-reality and you have never felt anything like it.
Experiencias Wuautech:
Una auténtica aventura en una isla mágica. Experimenta la velocidad y la emoción. Libera los espíritus atrapados en los Idolos Sagrados y completa la misión.
El mar, el cielo y tú. Una experiencia de hiperrealidad minimalista que pondrá a prueba tu arrojo.
Atrévete a visitar nuestra ciudad. Camina por callejones y salta entre azoteas. Vive una emocionante experiencia de hiperrealidad.
Un simulador que recrea un vuelo en ala delta. Maneja tu propio planeador y tú eliges; contempla la puesta de sol o recorre los circuitos del mapa.